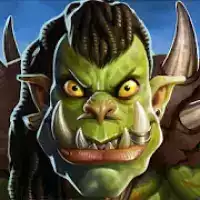 Warlords of Aternum
Rating: 4.00 (Votes: 1)
⚔️ EPIC STRATEGY. HEROIC PROPORTIONS. ⚔️ Meet your enemies on the battlefield, and put your tactics to the test. Recruit, train and build your army to battle and conquer every opponent in this turn-based strategy game.
Collect and recruit dozens of units to turn your regiments from a handful of militia into a steeled fighting force. Equip and customize each unit, develop weapons and armor, and master game-changing abilities.
Compete in intense PVP battles against the Warlords of Aternum community and climb to the top of the leaderboards. Do you have what it takes to become a true Warlord?
🔷 JOIN THE FIGHT
Take on the orc horde, roaming bandits and fellow warlords in challenging
turn-based PvE or PvP battles
🔷 YOUR MOVE, YOUR VICTORY
Make the right tactical decisions to dominate intense
3D animated combat
on the hexagonal battlefield
🔷 UNITE THE LAND
Build your army from the ground up and forge
powerful alliances
🔷 EQUIP YOUR TROOPS
Discover legendary weapons, and unlock tide-turning
special abilities
🔷 DEFEND YOUR HOME
March through dozens of shires and explore the
fantasy land of Dunmar
🔷 DESTROY YOUR ENEMIES
Hoist your banner at the
top of the PVP leaderboards
Warlords of Aternum is free to download and play, but it also allows you to purchase virtual items with real money inside the game. You can disable in-app purchases in your device's settings. Warlords of Aternum requires internet access to play and access its social features. Warlords of Aternum may also contain advertising.
General Terms and Conditions:
https://legal.innogames.com/portal/en/agb
Imprint:
https://legal.innogames.com/portal/en/imprint
⚔️
Are you ready to join the fight?
⚔️
Based on 1 Votes and 0 User Reviews
Other Apps in This Category