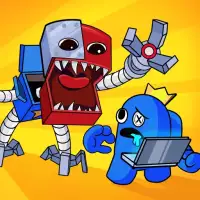 Space Survivor
Rating: 0.00 (Votes: 0)
What will you face in this survival game?
When the darkness comes, leave the corridor immediately or no one will be able to guarantee your safety in the spaceship.
The monster created some secret silent rooms in the spaceship, if you enter - leave immediately.
There are lots of types of monsters that can appear: Cursed monsters who can destroy your weapon with their mind, among monsters who can devour you faster
What can you do?
Be smart! Use your gold to build and upgrade the weapon against monsters! Don't get out of the room at midnight! Escape is not the right choice here.
If they are attacking your door, press the [Repair⚙] button to repair the door immediately.
⚔️ HOW TO PLAY ⚔️
Find your asylum, lock the door and build the defense system
Tap to build, and you just can build things inside your room.
Fight with the devil monster, outlast your life until darkness is gone.
Upgrade your weapon to make them stronger.
🔥 EXCLUSIVE FEATURE 🔥
Outstanding 3D graphic design
Dynamic superhero fight game with a unique combination.
Famous characters with awesome hero outfit ever
Fun and addictive dynamic gameplay
Best simple running adventure game ever
Based on 0 Votes and 0 User Reviews
Other Apps in This Category