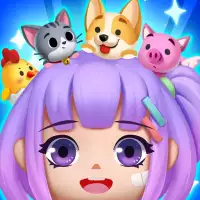 Mini Party
Rating: 0.00 (Votes: 0)
In mini party you are the one and only, thousands of skins, clothes, and decorations can be mixed to match your style. Design your own clothes and hairstyles to amaze others with your imagination, make another you in another universe. Here you can be a mage, a superhero, a warrior, a police officer, a teacher, a mayor, be all kinds of animals as you wish, and become the party king!
On your sky island, you can create your own themed worlds, could be the future island with high techniques or the amusement park island. It could be the water theme island in the sky, could also be a castle or a playground. There are endless decorations here for you to make your own sky island theme. Create your own farm on the island, grow fruit trees and veggies, expand your sky island to explore new worlds. You can also invite your friends to build the sky island together! Everyone has a unique sky island, come to join us and invite your friends over. Let's play together.
Under the clouds, there is our party town. Try all the different clothes with friends in the clothing store, buy pet eggs from the pet store, sit by the campfire and chat, explore the map and playground with your friends, go fishing, mining, collect wood, catch various insects. With these materials, you can create furniture, toys, buildings, and clothes that only you own.
You can glide through the clouds, play online multiplayer games in arcades, surf, play sports and gunbattles, play as a magician, and more. Let's play together.
We need you in our party town. Public events will be shown on the big screen in the city square. You can become a firefighter and help the town put out the fire with your friends. Become a police officer, find lost children, help catch thieves and bring them to justice. There will be more events waiting for you and your friends.
At the mini party, you can have fun with your friends, it will be a party you've never experienced before. Here you can host online parties with your friends, fishing, catch insects, mining, and feeding pets. You can venture around party town, where playgrounds are everywhere.
You and your friends can visit other players' sky islands, explore their land, help them harvest crops, feed their pets, and give each other unique creations.
There are plenty of fun games to play in the party town, such as surfing in the subway, gunbattle in the castle, car racing in the city, roller coasters at the amusement parks, riding ferris wheel, and playing sports by the beach.
You can also invite your friends to your sky island, where you can experience a variety of gameplay, such as farm simulator, planting veggies or fruit trees, mining minerals to build exquisite furniture and ornaments to decorate your island. Build your sky island into a rec room, where you can add as many amusement facilities as you can imagine, and have friends over to have a mini party. You can go fishing, catching insects, mining, feeding pets, building rec rooms, farming, and expand your sky island together.
Follow us or contact us through:
Twitter:https://twitter.com/MiniPartyy
Mini Party Email:miniparty@reworldgame.com
Based on 0 Votes and 0 User Reviews
Other Apps in This Category