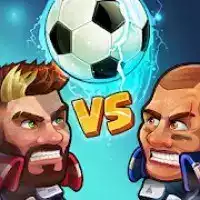 Head Ball 2
Rating: 4.00 (Votes: 1)
Chosen as the 'most competitive game of 2018', Head Ball 2 is a fun and thrilling soccer game. Take place in 1v1 online soccer matches against real opponents from all around the world. Join millions of soccer players to prove yourself to the online soccer community and your friends.
Play 90-seconds of action-packed soccer matches, whoever scores more goals, wins!
Experience thrilling moments with the voice of the legendary commentator, John Motson.
Stand out from the crowd!
-Progress your character!
-Pick the best character out of 96 unique upgradeable characters.
-Unlock new accessories to improve your soccer hero.
-Create your dream soccer player.
-Unlock different stadiums and gain fans to support you. The more the merrier!
-Become the ultimate soccer hero and show who's got more style and skill!
Upgrade Your Character
Upgrade your character to unlock your full potential. Progress through the career mode to unlock unique bonuses, accessories, and even heroes. As you progress, the rewards will get better but so will the challenge. Are you up to it?
Rumble Through Competitive Soccer Leagues!
Compete in 5 different soccer leagues and do your best to make it to the very top of the ladder.
Fight your way through real opponents and challenging soccer matches. You can't know who will be the winner before the match is over.
Unique Gameplay
Soccer is all about kicking the ball and scoring goals, right? Experience soccer in a way you have never experienced before.
Kick, strike and score using your hero. Use your feet, head, and superpowers to score goals. Head Ball 2 offers simplistic gameplay that can quickly transform into action-packed and exciting games.
Hit the ball, hit your opponent, use headers, superpowers or out-wit your opponent by juking them. Everything is permitted, as long as you win!
No match will be the same as the previous in the most exciting soccer game!
Get Social
Join a soccer team or create your own team. Represent your team and face-off different teams to show which soccer team is superior. Contribute to your teams' overall progress.
Connect with your friends via Facebook and challenge them to show who is the better soccer player.
Features
-Play soccer against real opponents from all across the world in real time!
-Dynamic and exciting gameplay with dashy graphics.
-96 unique characters to unlock.
-5 unique competitive soccer leagues.
-Hundreds of accessories to improve your soccer hero!
-Plan out your strategy on the field with 18 upgradable powers.
-Card packs that contain characters and items.
-Facebook connection to play with your friends!
-Gain supporters to unlock new stadiums.
Download Head Ball 2 to experience the thrill of challenging soccer matches against millions of players across the world!
Important!
Head Ball 2 is a free to play game. However, there are some in-game items which can be purchased for real money. You can disable in-app purchases in your device's settings if you don't want this feature.
A network connection is required to play.
Based on 1 Votes and 0 User Reviews
Other Apps in This Category